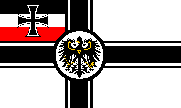 GROßE KRUEZER
The Large Cruiser SMS Blücher


Ship's Crest
---
Although not truly a battlecruiser, SMS Blücher was Germany's answer to reports of a new class of armoured cruiser being constructed by Great Britain. Basing their specifications on those released for the new British ship, SMS Blücher was designed with twelve 210mm (8.3") guns in six twin turrets in a hexagonal layout that served as the prototype for contemporary German battleships. But the ship she had been designed to fight was the 12" gunned HMS Invincible. Completely outclassed by the new British dreadnought in both speed and armament, Blücher was designated a gunnery training ship in 1911 and it wasn't until war loomed in 1914 that she was attached to the 1st Scouting Group. It was quickly realized that she could not hold her own against the new class of dreadnoughts, a fact proven with her loss at Dogger Bank, so Germany had to go back to the drawing board to design the SMS Von der Tann.
---
PHOTOS
Plans and Construction

Line Drawing - Side View (Greger)


Line Drawing - Side View (Gröner)


Active Duty



Starboard Bow Aspect


Starboard Aspect - 1912


Starboard Quarter Aspect


Port Quarter Aspect (U.S. National Archives)


Port Bow Aspect (U.S. National Archives)
---
SPECIFICATIONS

Project Name: Heavy Cruiser E
Builder: Blohm & Voss, Hamburg
Laid Down: 1907
Launched: April 11, 1908
Commissioned: October 1, 1909
Sunk: January 24, 1915 (Sunk by British battlecruisers off Dogger Bank)
Scrapped: N/A
Displacement: 15,842 tonnes (designed) / 17,500 tonnes (maximum)
Dimensions (meters): 161.8 (overall) x 24.5 x 8.84
Dimensions (feet): 533.94 (overall) x 80.85 x 29.17
# of Shafts: 3
# of Propeller Blades: 4 (center prop 5.3m diameter, outer props 5.6m)
# of Rudders: 1
Max Speed/Range: 24.5 kts / 6,600 nm at 12 kts
Main Battery: Twelve 210mm (8.3")/45 caliber - 6 twin turrets
Secondary Battery: Eight 150mm (5.9")/45 caliber - 8 casement mounts
Anti-Torpedo Boat / Anti-Aircraft Battery: Sixteen 88mm (3.5")/45 caliber - single mounts
Torpedo Tubes: Four 45cm tubes (all underwater - one bow, one stern, one mounted on each side just aft of "Anton" turret)
Complement: 41 officers and 812 enlisted (as designed)

---
LINKS TO OTHER WEB-SITES

Warships of the World German Naval Guns
Warships of the World Pre-World War II German Torpedoes
German Kriegsmarine Encyclopedia

---
Back to Große Kruezer.
Back to Home.
This page © Copyright 2000, Thomas L. Tanner, Jr. unless otherwise noted.